Hey Guest, looking for

Virtua Fighter 5: Ultimate Showdown

content? Rest assured that the game is identical to

Virtua Fighter 5: Final Showdown

so all current resources on here such as

Command Lists

with frame data,

Combo Lists

and the

Wiki

still apply. However, you can expect some VF5US specific changes to come soon!

Dismiss Notice
NLBC Virtua Fighter #2
You can not RSVP for this event...

This event has already begun, or has already passed; RSVP has been since closed.
NLBC Virtua Fighter #2
Online North America
Confirmed Attendees:
0
Posted By: Harpooneer
Start Date: 10 Jun 2021 08:00 PM
End Date: 10 Jun 2021 11:00 PM
Time Zone: America/New_York -04:00 EDT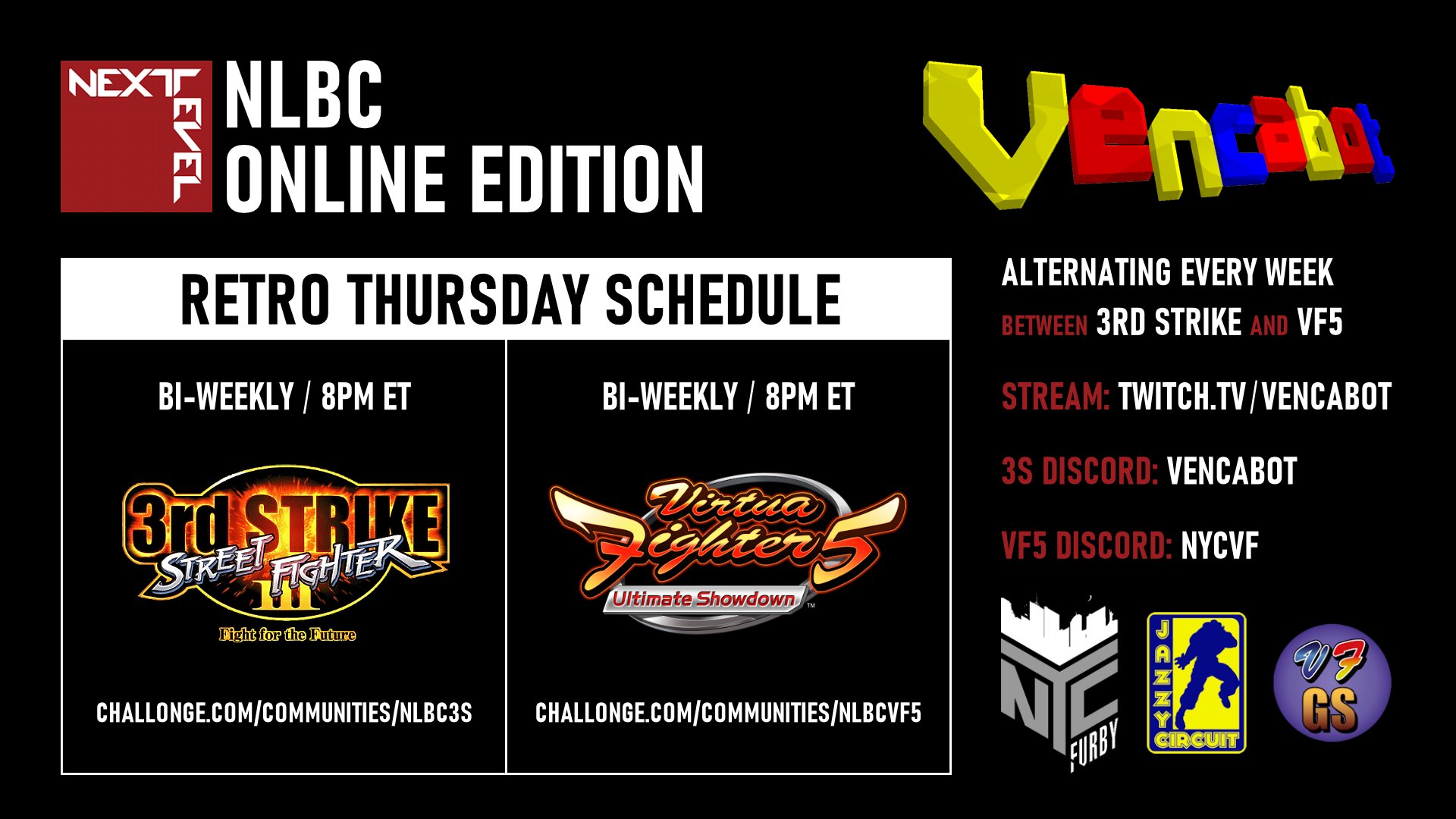 https://challonge.com/nlbcvf02
streams:
twitch.tv/nycfurby
,
twitch.tv/vencabot
Tournament Rules
32-player cap.
Bracket matches are best of 3. Winner's, Loser's, and Grand Finals are best of 5.
Getting Started
Players must check-in at least ONE hour prior the start of the tournament To check-in, join the NYCVF Discord and assign yourself the NLBC role in the #check-in channel. Discord link: https://discord.gg/K7GpKVfC

Players must change their discord handle to reflect the name that they signed up with in challonge for easier matchmaking. Put your PSN in (parentheses) if it is different.

Specific instructions on finding a stream room, or off-stream matchmaking instructions, will be provided on the day of the tournament. Please read them carefully. Delays caused by failure to follow directions will result in disqualification.
How to Play
The NLBC channel in the NYCVF discord will be used to call up matches.
One passworded room will be used to hold a group of streamed matches. This room will need to be populated prior to the start of the tournament and will be set up by an admin.
To search for rooms by password, players will use the triangle button to sort password rooms. It may be necessary to refresh the list several times.
When joining the stream room, do not begin a match until you are pinged on discord to do so.

Some matches will not be streamed. These matches will have their own instructions, and players will be pinged with these instructions.
Eligible Regions
United States
Canada: New Brunswick, Newfoundland and Labrador, Nova Scotia, Ontario, Prince Edward Island, Quebec