VFDC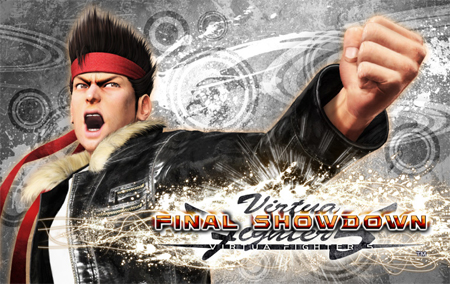 Today, 29th July 2010, is the official start date for VF5 Final Showdown! Look for more match replays to pop up starting tomorrow now that the game is available across Japan. This month's issue of Arcadia magazine will have a huge feature on the game, including a changelist and basic combos, so we will start work on that as soon as we get our hands on it. (we meaning me... and hopefully whoever else gets the magazine!)

Now that the arcade version is out, all that's left is to hope that Sega smartens up and announces a console version in the near future. Tokyo Game Show would be a perfect time for it! Make it happen, Sega.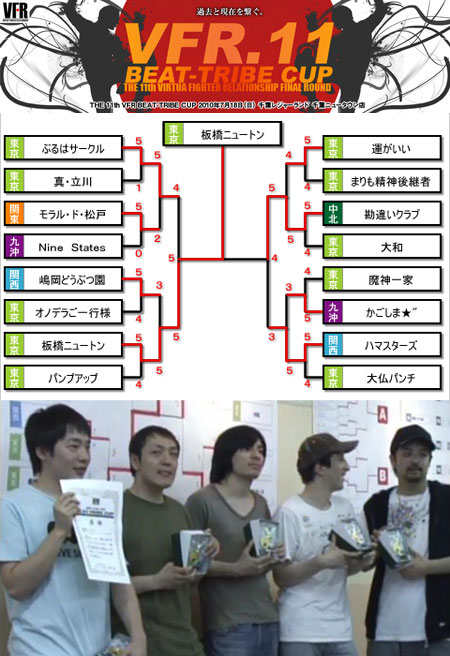 If you weren't watching this event on Sunday -- and you should have! -- here are the results of the 11th Beat Tribe cup tournament. There were 145 teams at this 5 on 5 event, making it one of the biggest fighting game events of the entire year. Thanks to Arcadia Magazine for hosting the video stream!
1st Place
-
Itabashi Newton[/size]
Itabashi Zangief (Shun)
Kamaage (Akira)
Kissa (Shun)
Zettoman (Lei-fei)
Bubbles (Lau)

2nd Place - Kanchigai Club[/size]
Penkiyasan (Lau)
Kanzen Nitaku (Wolf)
Yogo Kage (Kage)
Ryu-chan (Jacky)
Toru (Akira)

Videos
» Final - Itabashi Newton vs Kanchigai Club - Part 1
» Final - Itabashi Newton vs Kanchigai Club - Part 2
* The above are nicovideo links, if you have trouble watching, then copy/paste the link into http://mmcafe.com/nico.html
»...
About a week ago
I was informed by an arcade operator acquaintance of mine that Final Showdown would be released on the 29th of this month. While I had no doubt that this was true, I've seen this date pop up in several other places, including
Niigata POPY's homepage
, so it should be safe to say that the game will be in operation starting on the 29th! Expect to see more videos and impressions soon!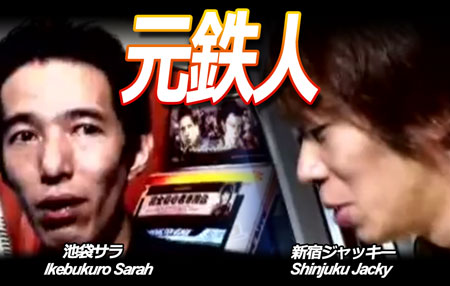 This week, Sega has awarded
Ikebukuro Sarah
and
Shinjuku Jacky
, two of the biggest names in VF history, the title of
Moto Tetsujin
, or Original Tetsujin, which they will carry on their player cards from now on. These two join Bunbunmaru and Kyasao, who received their titles last year. Congrats to both!
»
VF 10th Anniversary ~ Memory of a Decade

The 11th annual
Beat Tribe cup
, the biggest Virtua Fighter tournament in Japan, is on this weekend, and looks to be yet another huge gathering of the top talent in the Virtua Fighter world. This is going to be a huge 5 on 5 event, with 140 teams signed up so far. For those who can't do the math, that's over 700 players from around Japan for this one tournament! Not only will there be the regular team tournament, but also an over-30s/ladies tournament as well!
All of your favorite players, including Koedo, Chibita, Kamaage and SHU will be out in full force with their teams, and luckily for those who cannot attend,
the official Tougeki site
will be broadcasting the tournament on their official website!
The event will begin on Sunday, July 18th so make sure to check the Tougeki site for the line on that day!
»
Beat Tribe cup live stream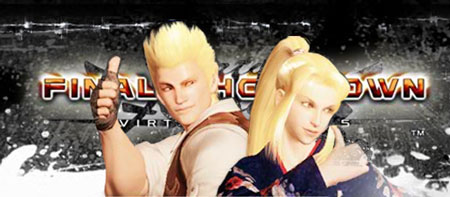 VF5FS Official Site
The official web site for VF5FS is starting to take shape with a teaser flash site highlighting some of the new points to look forward to with the soon to be released (in arcades) Final Showdown!
»
http://www.virtuafighter.jp/vf5fs/index.html
VF5FS Wallpapers on D.K's blog
The past few entries on D.K's blog has seen a slow trickle of
VF5FS Wallpapers
being made available for download. For convenience, below are the links to D.K's diary entries where you'll find the Wallpapers released so far:
Pai, Aoi, Jeffry, Akira
»
http://www.virtuafighter.jp/dk_66.html
Lion, Lau, Jacky, Sarah
»
http://www.virtuafighter.jp/dk_68.html
Blaze, Jean, Taka, Wolf, Vanessa, Shun, Eileen, Lei, Brad, Goh, Kage
»...
Kamaage, one of the top Akira players in Japan, is also the owner of
Virtua Dojo
, which has become the central site for Japanese VF players in the past year. In the past the site has supported blogs, streaming video and message boards but according to Kamaage, the site is getting a massive overhaul to make itself more appealing not only to domestic players, but international players as well.
According to his
personal blog on VF Dojo
, the site will soon sport the following features:
Multi-language support: User blogs, shoutouts and movie comments will be automatically translated from Japanese to either English, Korean or Chinese.
Ustream support: This has been a major point of contention with the international players, as the current movie system has been giving overseas viewers trouble in the past. By moving to Ustream, Kamaage hopes to alleviate any problems and allow more...